Emissions and safety inspections for heavy-duty diesel commercial, light-duty and passenger motor vehicles have been combined into a single digital program called DriveON.
The new DriveON program will: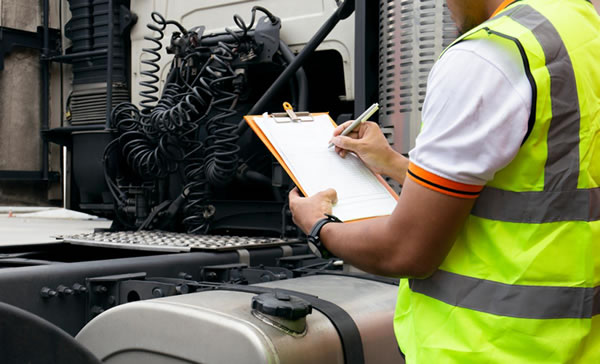 Save commercial motor vehicle owners time and money
Reduce fraud
Reduce harmful emissions
Ensure vehicles are safe for our roads
For detailed information on the Ontario DriveON program, click here.
Get an Emissions and Safety Test for a heavy-duty diesel commercial motor vehicle at Malvern Garage
Emissions and Safety tests for heavy-duty diesel commercial motor vehicles must be performed by a certified technician at a vehicle inspection centre that has entered into an agreement with the Ontario government.
If you need an emissions and safety test for your heavy-duty diesel commercial motor vehicle, Malvern Garage can perform this inspection. Contact us today!
---
Understanding Emissions Tests in Ontario / Scarborough
Emissions Tests in Ontario, what are they all about? They're evaluations designed to measure the pollutants your vehicle releases. Initiated in April 1999 through the Automobile Emissions Control Program, Ontario set out to monitor and limit harmful pollutants from vehicles. If a vehicle failed this test, it faced a penalty! These evaluations are conducted periodically to ensure vehicles meet the required standards.
Why the Need for Emissions Tests in Ontario?
Ontario has been proactive about air quality, consistently striving for cleaner air. In 1999, the province introduced the Drive Clean test, aimed at limiting vehicular contributions to air pollution. As vehicle technology advanced, the program faced criticism and was eventually phased out in 2018.
Who Needs an Emissions Test Now?
Post April 2019, light vehicles (weighing up to 4,500 kg) are generally exempt. However, heavier vehicles, particularly commercial diesel ones weighing over 4,500 kg like buses and large trucks, must undergo annual Emissions Tests. If your vehicle is in this category, expect a reminder in your mailbox. Buying a used car? If it's over seven years old, ensure it aligns with Ontario's emissions criteria.
What is CVOR?
CVOR stands for Commercial Vehicle Operator's Registration. In many cases, you will be required to show your certificate to enforcement or police officers when pulled over or during an inspection. The CVOR's job is to monitor and evaluate the operator and their vehicle's safety records, making sure it is safe for the road at all times. LEARN MORE ABOUT CVOR
The Testing Procedure Explained
If your vehicle falls into the test-requiring category, where should you head? Only certified technicians at authorized vehicle inspection centers can conduct these tests. A technician will first visually inspect your vehicle's exterior, ensuring aspects like a secure fuel cap and an intact exhaust system. Next is the "opacity test" to gauge exhaust emissions. Pre-1990 vehicles require a 40% opacity level to pass, those from 1991-2007 need 30%, while post-2008 vehicles require just 20%. Other issues, like a loose fuel cap, are also checked. Passing lets you drive for another year, while failing means repairs and a retest.
Tracking Your Vehicle's Emissions Test History
Wondering when your vehicle last underwent an Emissions Test? Armed with your VIN (Vehicle Registration Number), head to the DriveON vehicles submission report website. Those in Ontario can even request a six-month test extension over the phone.